The Sustainability Diagnostic Tool
Don't read this if you are not interested in increasing your net profitability by up to 63%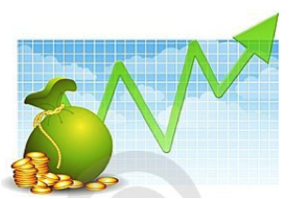 Supported by Federal and State and Local Governments and industry associations , The Sustainability Diagnostic Tool has been used by more than 1700 companies and 100 business advisers that seek to identify their sustainability performance as they progress from 'Innocence' through to ' Excellence'. It forms part of an integrated framework for individual organisations or collaborative networks and is unique in that it links business performance with resource consumption, costs and intensity measures (e.g. kg resource per unit of product). The nitty gritty of business success.
Our easy to use five-step sustainability-rating tool helps organisations transition from being complete sustainability novices to world-class leaders, who aspire to a vision zero waste.

How it works:

Step 1. Awareness "Innocence"
Demonstrating the business case and becoming aware of opportunities.
Step 2. Commitment
Getting senior level sign-off ; develop policies.
Step 3. Underway
Implementing plans, procedures and policies
Step 4. Competence
Demonstrating  high performance over an extended period
Step 5. Leadership "Excellence"
Your organisation is recognised as a leader by peers
What do you get?
 An immediate assessment of your your sustainability performance, followed by a chart and report that becomes the basis of a sustainable business strategy:
A comparison between your organisation's performance with others in the field (benchmarking)
 The physical quantities and financial cost ($) of waste, carbon emissions (kg CO2e), water use etc. on a per product or service basis
Resource consumption & intensity measures
 Specific recommendations on how to progress between each step (Further Assistance, Next Steps)
 How your organisation rates in terms of:
Management & Leadership
Water Efficiency
Waste Avoidance
Carbon Management
Supply Chain Optimisation
Innovation & Integration
Community & Well-being
Biodiversity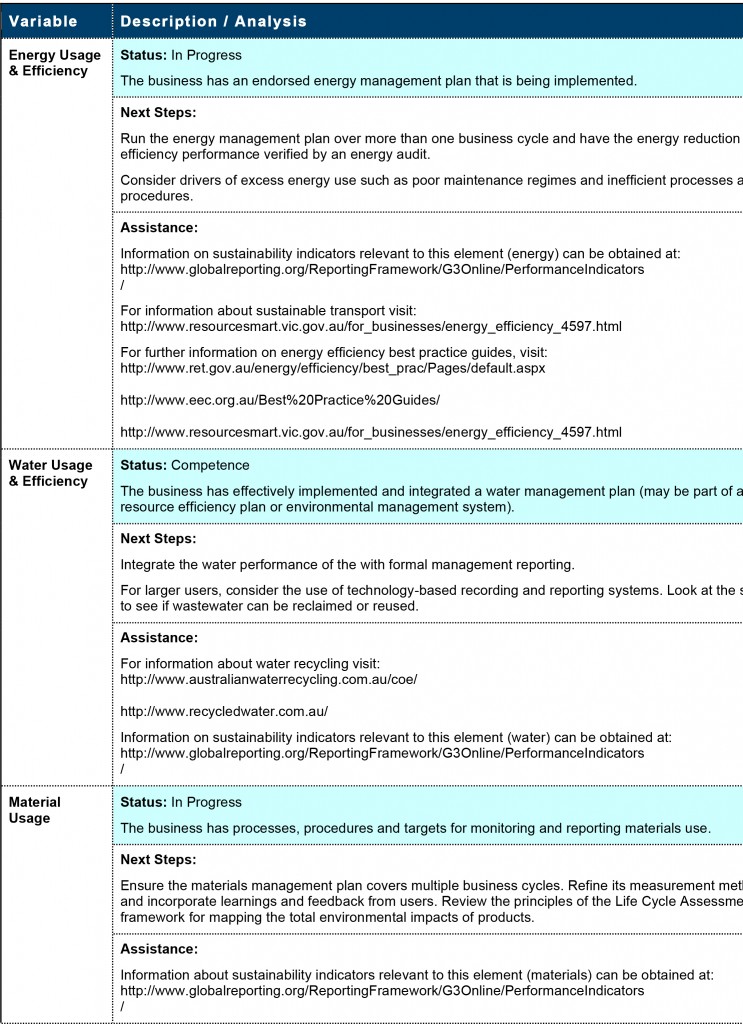 Who uses it?

Organisations that have undertaken our sustainability diagnostic range from manufacturers, retail, transport, food, construction & building services, training, services, design, agriculture, electrical, to creative arts, wineries and energy.
Clients include (see link for Case Studies):
Godfrey Hirst, La Madre Bakery, Target, Caronlab, AKD Softwoods, CSIRO, IXL, Barwon Health, Showerline, Cotton On, Mocopan Coffee, Bean Alliance, Charles Sanford Furniture, Johnson Mathey, Aztec Cutting, Rockleigh Tours, Insulpak, CMTP, Malteurop, MRI e-waste, Southern Cross Recycling, BRITE disability services, Alcoa, Llondell Basel, Geelong Galvanising, Exquisine, Baxters Foods, Richstone Plumbing, Riversdale Mill Wool Scourers, Labelmakers, Barwon Water … and many more.
Now you've measured, it's time to manage – The Sustainability Transformation Framework:
Drawing on the analysis provided by the Sustainability Diagnostic Tool, the framework supports organisations making the transition from Step 1. Sustainability  'Innocence' through to Step 5.Sustainability 'Excellence'.
Working within our framework, we address each aspect of the report generated by the Sustainability Diagnostic Tool and provide you with clear direction on how to progress step-by-step up the continuum from Innocence to Excellence. This framework provides you with the basis for your own integrated sustainability strategy leading to measureable environmental and commercial outcomes.  To learn more about the Implementation Framework, visit the 2011 case study: Geelong Manufacturing Council, or to hear about a 10 fold product efficiency gain from one of participant companies or the 2012-2104 Green Light program.