Events, Facilitation and Training
Hear from a thought leader

We are passionate about creating an inspiring, thought-provoking and intelligent culture surrounding sustainability, through facilitating high-level conversations between industry associations, Government, business and non-profit organisations.
Our extensive international and local networks are comprised of the biggest movers n' shakers who have incorporated sustainability into their business DNA and our clients benefit tremendously from being a part of this.
We continue to bring industry guest speakers to our programs – so keep an ear to the ground!
Click here for case studies from past participants. Click here for video, or for other videos.
Movers n' Shakers
We work hard to bring the best ideas to Australia though events and video link-ups. Recently we've worked with greats such as Paul Hawken (The Ecology of Commerce), Dr Bob Willard (Sustainability Advantage), Drew Dellinger (Planetize the Movement), Annie Leonard (former The Story of Stuff CEO) and Lynne Twist (The Pachamama Alliance; and author of The Soul of Money) to share their genius and inspire with their stories.
Paul Hawken National Tour – a rather big deal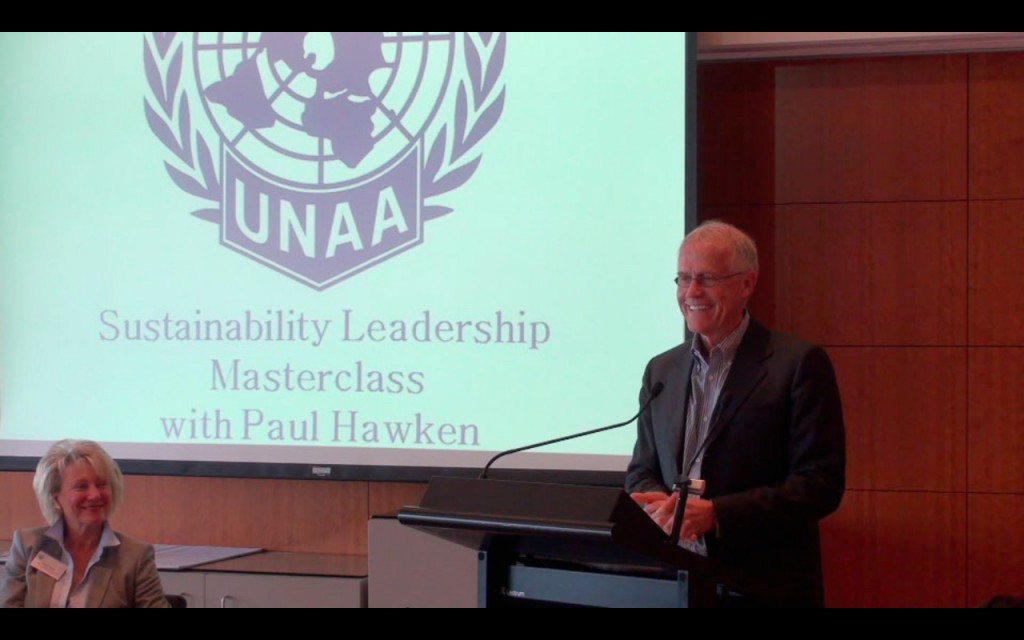 Our recent collaboration with corporate, Government and business partners (see below) to host a National Tour of Australia for Paul Hawken, the game-changing author, speaker and 'ecopreneur' was an enormous success, read about it here.
5000+ Your Ideas for a Great City, "Business Survival: A sustainable and profitable model"
Sustainability Roar, "Paul Hawken Speaks in Melbourne"
Eco Business, "Sustainability Leadership Masterclass with Paul Hawken"
Andrew Gaines, "Review of Paul Hawken in Sydney"  – to listen to Paul's talk click on  Sydney or Melbourne and contact ECO2Sys for the password.
ECO2Sys play very well with others
Here are just of the few of the top notch organisations we have collaborated with to host and facilitate learning sessions at events:
Geelong Manufacturing Council, City of Greater Geelong, Sustainability Victoria, Waste Expo, City of Darwin, City of Hume, City of Moreland, United Nations Association of Australian, KPMG, City of Melbourne, the South Australian Government, Queensland Government, University of Technology, Bond University, SAP, Interface Flor, NAB, City of Mornington, VLGA, City of Randwick, Object Consulting, Engineers Australia, MWMG, GHD and Sustainable Business Australia to make this happen.
Talk to us about bringing a little inspiration to your organisation through one of our leading events.
Exciting new GreenLight program happening in northern Melbourne region 2016

Building on past successes ECO2Sys continues to deliver its highly innovative program (Greenlight) through the industry associations, councils and State Government. These began in late 2012 in Geelong and since then successive programs have been run in northern Melbourne and beyond, with over 70 companies having participated. Companies have saved and continue to save themselves $ millions through their participation in the program, with a ROI of between 10 and 1000 times.